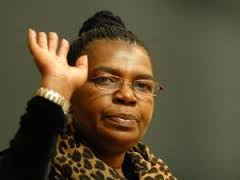 Dina Pule to withdraw appeal in eTV set-top box control dispute
DINA PULE TO WITHDRAW APPEAL IN eTV SET-TOP BOX CONTROL DISPUTE
SJ Phamodi
Minister of Communications, Dina Pule, announced today that she had instructed the Department of Communications to withdraw its appeal against the South Gauteng High Court judgment awarding development and control of set-top box conditional access to broadcasters.
Pule was speaking as the special geust of honour at the 8th Annual Digital Broadcasting Switch-over Forum (DBSF) in Johannesburg.
"We have been engaged in discussions with the broadcasters, the regulator, the distributor and other stakeholders," said Pule, "and we are committed that we will find a solution to ensure that we will roll out DTT."
The conditional access control dispute, which has significantly retarded the long-awaited switch-over from analogue to digital broadcasting technologies, emerged when commercial free-to-air broadcaster, eTV objected to Pule issuing a directive awarding the control to signal distributor Sentech.
In a robust judgment by Acting Judge Gerrit Pretorius, the Court made held in favour of eTV, and held that the Minister had acted beyond the scope of her powers in issuing the directive. He further criticized ICASA's passivity in playing its regulatory role.
Expressing her confidence in the negotiations, Pule said that she foresaw that the DTT project would resume and gain full traction within the next few weeks. "We are committed to launching DTT this year," she said.
Follow SOSCoalition on twitter and facebook for an inside look of what's happening at #DBSF 201