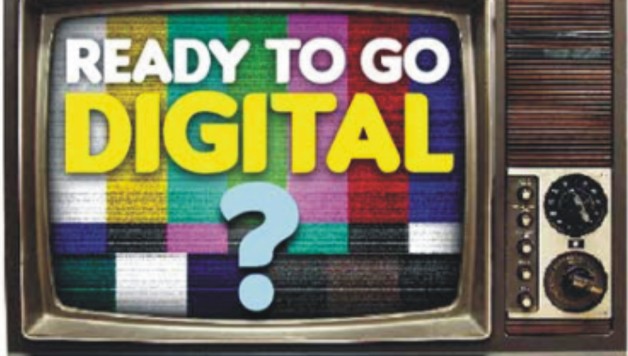 REPORT: Is South Africa Ready to Go Digital?
SOS Reports on the DTT Readiness Briefing convened by a Joint Sitting of the Portfolio Committees on Communications and Telecommunications and Postal Services on 10 March 2015.
Broad Overview
Absent from the meeting were both the Minister of Communications and Telecommunications and Postal Services. Opposition MPs from both the DA and EFF objected to the absence of the ministers. The Chair of the Telecommunications committee Mmamoloko Tryphosa Kubayi quashed these objections after a rather terse exchange. It is notable that the Minister of Communications was absent from such an importing meeting, leaving MPs only able to engage with bureaucrats unable to report properly on the political aspects of Cabinet's recent decision Set-Top-Boxes (STBs) and the overall migration process.
The presentation by the Department of Communications, led by Director General, Donald Liphoko, once again outlined the history of the migration project. Notably, it was made clear that South Africa would miss the 17 June 2015 ITU deadline, however, the reasons for this were not outlined in detail in the presentation. This would be addressed in the Q&A session towards the end of the meeting following a direct question by opposition MPs.
What was emphasised, however, was that government would provide 5million free STBs to poor households that qualify on the basis of a means test and other criteria, confirming SOS's victory in pushing the agenda of the need for a 100% subsidy for STBs for low-income households in South Africa. There was concern, however, over whether the figure of 5 million households was an accurate measure of the need. Universal Service Access Agency of South Africa (USAASA) officials indicated that where this was Cabinet's figure, their own figures, based on StatsSA's census, indicated that about 6,2million households would require these free STBs, whereas the provincial indigent household statistics indicated a figure of about 8,1million households. USAASA said that it would be verifying these figures with the Social Assistance Agency of South Africa's (SAASA) to get a more accurate measure.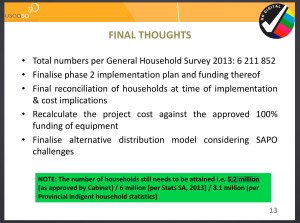 The DoC stated that the official digital switch-on date would be determined by the Minister in consultation with cabinet. Because South Africa would miss the ITU deadline, areas which would be prioritised areas for migration would be the Square Kilometre Array area, as well as border-lying areas in order to protect the array and the country from radio signal interference. These would be followed by low population density areas with high population density areas (urban and metropoles) would be migrated at the end-stage of the roll-out programme.
The project management task-team along with the DoC were all looking to effecting a "hard" switch-over, which means that they would be targeting a three-year period to complete the switch-over within three years and cut off the analogue signal. While this has its benefits in terms of costs, there remains concern around whether TV owning households would have enough time to understand the migration process and its value, and acquire STBs within that period. This is of particular concern because of the delays to the public awareness campaign and lack of a retail strategy beyond that prioritising the South African Post Office as the key distributor of the subsidised STBs.
Is the Network Infrastructure Ready?
Sentech confirmed that it had completed 99% the terrestrial and satellite network infrastructure roll-out, with only Napier in the Western Cape to go (owing to severe weather conditions). This site would be completed in March, meaning that all communities would be reached with consistent quality of service.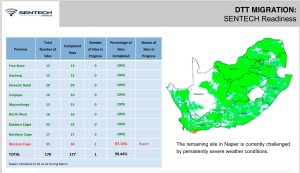 The most notable thing that came across during this presentation was the fact that Sentech has only been granted dual illumination funding for a single fiscal year, nor was it able to guarantee that it would receive this funding in future years.
It remains unclear how the DoC and its digital migration project management team intends to resolve this issue, particularly in the face of the lack of certainty in terms of how long the project will, realistically, take to complete.
STB Control, Conditional Access and Encryption
The DoC introduced Solly Mokwetle as the head of the rollout programme management team, who explained government's understanding of STB control, conditional access and encryption, respectively, and the reasons why cabinet settled on the inclusion of 'STB control' and the exclusion of the others. The STBs will have minimal security features to protect the devices for free-to-air broadcasting, a misleading misnomer which will be explored later in the report. The devices will not be encrypted, beyond the minimal tech necessary to protect the devices from theft or leaving the country through the 'STB control system' to meet these minimal requirements.
It was emphasised that government views its role purely as to ensure there is a conducive policy environment for the upcoming transfer, and did not view its role as to ensure 'quality content' or to stimulate new ventures in the form of television channels which begs the question: why and how is the DoC, nevertheless, invested in advancing a programme to increase social cohesion and national pride through broadcasting services, including a 70% target for local content on the SABC. It was emphasised repeatedly that against this backdrop, if any broadcasters wanted conditional access and/or encryption, they would have to make that investment themselves. It is SOS's view that this only edifies Multichoice's de facto monopoly in the subscription broadcasting services space.
Creating Jobs and Stimulating Local Electronics Manufacturing
Government, nevertheless, views the huge investment made (about R3,2bn) in STBs as a chance to stimulate the local manufacturing industry, through a plan in which 30% of the components of the box would be manufactured in South Africa and the boxes themselves will be assembled in South Africa. A task-team with government and other stakeholders has been established to co-ordinate the activities of this project. It should noted that's task-team is only made up of government, broadcasters and manufacturers, with no representation from civil-society groups.
The South African Post Office (SAPO) who would be responsible for the distribution of STBs noted the roll-out budget as sitting at R929m. It also boasted that it would create jobs for 17000 installers all of which are based in local communities. Following direct questions from both ANC and opposition members, SAPO later admitted that it would not be hiring installers or training new workers, but contracting with existing installation companies. This brought into question the validity of government's claims that the project would create jobs, develop skills or even create 'job opportunities'. Simply, there is no certainty that the entire migration project would create a single new and/or sustainable job.
In demonstrating the sheer scale of the distribution plan, SAPO indicated that it would need to roll out between about 3000 to 17000 STBs per day over a 3 to 1 year migration period, respectively.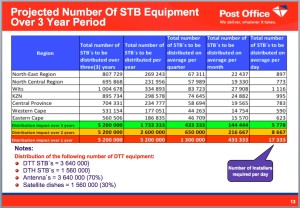 Opposition members raised the concern of how SAPO would manage these volumes when it was struggling with labour dissatisfaction, annual and long lasting strikes, and meeting its minimum requirement of simply delivering the post efficiently. SAPO claimed to have resolved relations with unions over the rollout, due it being a matter of national importance, but they were unwilling to provide details in regard to agreement or understanding they claimed to have obtained form the unions. SAPO also faces a funding gap of some R522 518 504 according to their cost estimates they currently have only R400 million in spite of their projected costs for the rollout stacking up to R922 518 504.
Popularising DTT, Protecting Consumers
Protecting consumers from non-compliant "grey-import" or "grey-good" STBs was raised by opposition MPs. Without signal encryption, there is no in-built mechanism to prevent non-conformant "grey-import" STBs from working in South Africa. As was evidenced in both Kenya and Mauritius's own digital migration [where both markets were flooded with cheap, poorly-made set top box imports that had a high rate of failure], signal encryption is crucial for ensuring that end-users are guaranteed uniformity of service. In 2013, the Minister of Communications (still serving as an MP in the Portfolio Committee on Communications) herself raised this concern, demonstrating one of these "grey-import" STBs which do not conform to the current SABS standards, and that they stand to cause harm to consumers.The DoC responded to this saying that there would be no risk to consumers since the poorest consumers would have access to free STBs and that all consumers would be able to identify conformant STBs through the Go Digital logo.
The DOC emphasised their focus on creating public awareness through a R19million communications campaign involving pamphlets, messaging through FTA terrestrial broadcasters, SAPO and GCIS, and the establishment of a call centre. The DTT public awareness campaign, nevertheless, remains devastatingly behind schedule. With switch on targeted to June 2015, the DoC was unable to fully account for what it would be doing to mitigate the lost time and provide coherent and expansive communications to educate the TV viewing public about DTT and encouraging it to take on the new technology. What little that was discussed by the DoC was that it had made an allocation of R19m to the public awareness campaign (it is unclear whether this is overall or for one fiscal year), and that it was looking to terrestrial broadcasters to also play a central role in the awareness campaign.
No response was given on what outputs had been yielded from the R750m allegedly
irregular tender
awarded to
Media Corner
for these services
under the Pule administration, nor of the progress made on the investigation into these allegations.
Tender (Ir)regularities
Concern was expressed by opposition MPs about what mechanisms were set in place to mitigate potential irregularities in what would be a a very lucrative tender award. USAASA boasted that it had engaged Ernst&Young to evaluate bids on its behalf, and that RAIN chartered accountants were set to audit the bid evaluation. USAASA emphasised that at no point would any USAASA staff or board member be responsible of any one decision in who the tender would be awarded to.
USAASA noted that it expected to place its first order for borderline and SKA areas (DTH) orders on 20 March 2015.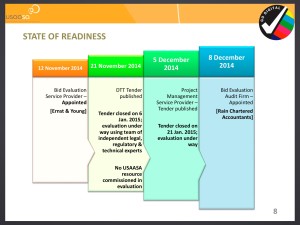 And the SABC?
Although the SABC or other terrestrial broadcasters were not specifically invited to present on their own state of readiness, SABC COO Hlaudi Motsoeneng was invited to respond to some issues from the floor. Predictably he insisted that the exclusion of STB control was in the interests of the poor, implying that 'free-to-access' was a victory over unnamed big corporates – despite the fact that Multichoice stands to continue to benefit from and entrench its natural monopoly in the pay-TV space as a result of the DoC's policy recapitulation on this issue.
On the question of how to protect the free-to-air content from signal piracy without encryption, he called on his advisor to explain that the STBs would contain a High Bandwidth Digital Content chip, which will protect content from being transferred to another device, therefore preventing content piracy through the STB. Nothing, however, was said of the fact that once signals go on air unencrypted, they can also be decoded by STBs that are NOT compliant with the SANS-862 standard and can bypass the copy protection in light of Mokoetle's earlier categorical statement that the DoC's role was to protect STBs themselves from unauthorised use and not the signals that carried this content.